Discover more from from the desk of Rebecca Kim Wells
News and thoughts from author Rebecca Kim Wells. Writing, books, miscellany.
Storm the Earth is (almost) here!
Twelve hours to go...
In less than twelve hours, my second book will officially be out in the world. It's a strange, strange time, but I'm so proud of this book and so excited to finally share the rest of Maren's story with all of you.
The Important Stuff
Signed copies of Storm the Earth can be ordered from my local indie Porter Square Books (as can signed copies of Shatter the Sky!). Unsigned copies are available basically everywhere else!
And if you're free tomorrow evening (October 13, say around 7pm Eastern), I'd love to see you at the virtual launch event! I'll be chatting with Tessa Gratton about Storm the Earth as well as her new book, Night Shine. The event is free and open to all, but you must register in advance to attend.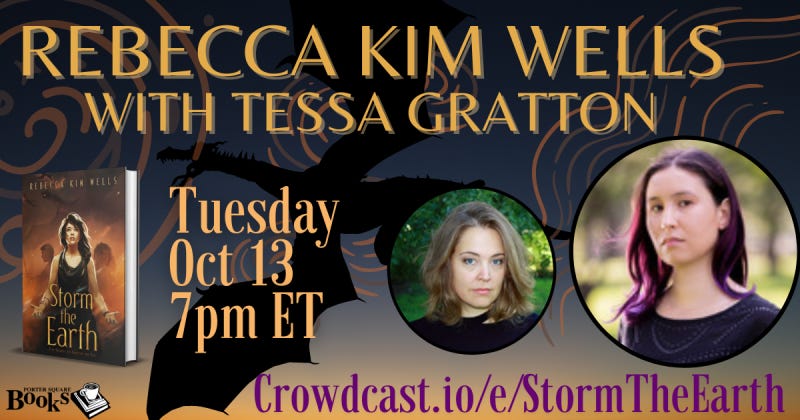 Me About Town
I had THE BEST time chatting with Kait and Renata at The Worst Bestsellers about all things The Bachelor. (It is real unfortunate that the author of the book we read turned out to be a trash bag, but the podcast is pretty fantastic.) (FYI if you ever run into me on the internet or IRL and you don't know what to talk about, you can bring up The Bachelor. I would be thrilled.)
I'll be on a panel at The BookFest on October 24 talking about writing in a time of tumult with some other really great YA authors. The full schedule hasn't yet been posted, but feel free to bookmark the date!
That's all, folks!
I was looking at what I could recommend to you and realized that mostly I've been running around dealing with pre-publication jitters and I have nothing new to shout about! Perhaps I'll make up for it with a holiday shopping guide next month…
Best,
Rebecca
*To find out more or to purchase any of my books, visit my website. Thanks so much for your support!