Discover more from from the desk of Rebecca Kim Wells
News and thoughts from author Rebecca Kim Wells. Writing, books, miscellany.
Storm the Earth is coming...
...in fourteen days.
Hello, internet friends! You're receiving this email because at some point in the recent or distant past, you signed up to receive bookish updates from me (Rebecca Kim Wells). I've recently switched newsletter services from Mailchimp to Substack, so this newsletter may look a little different from past updates, but rest assured—it is just as shiny and exciting as past missives.
News & New Books!
Well, it's the end of September, 2020. And despite the seemingly endless nature of this year, time has in fact continued to pass. Since the last time I wrote you, Shatter the Sky earned some accolades (Bisexual Book Award, New England Book Award Finalist, ALA Rainbow List!) and came out in paperback in July. I also recently signed a new book deal with Simon & Schuster—Of Blood & Briars, a standalone YA fantasy, will be published in Fall 2021. It features dangerous queer girls, generational trauma, a sinister magical forest, and a few dashes of fairy tale. I'm extremely excited about it, and can't wait to share more about its journey to publication in the upcoming months.
Meanwhile, my second book will be out on October 13. Just fourteen days from now! Storm the Earth is the sequel to Shatter the Sky, and picks up pretty much exactly where it left off. If you've been curious about what happened to Sev and whether we'll ever find out the dragon kit's name, you might want to check it out. Just like Shatter the Sky, Storm the Earth will be available in hardcover, ebook, and audiobook. And if you'd like to order a signed copy of STE (or STS), you can do so through my local independent bookstore, Porter Square Books. (Put any personalization requests in the comments!)
Due to the pandemic, I will only be doing one virtual event for this book, hosted by Porter Square Books. At 7pm Eastern on October 13, I will be in conversation with Tessa Gratton, author of several fantasy books for young adults and adults (most recently Night Shine). The event is free but registration is required. I would love to see you there!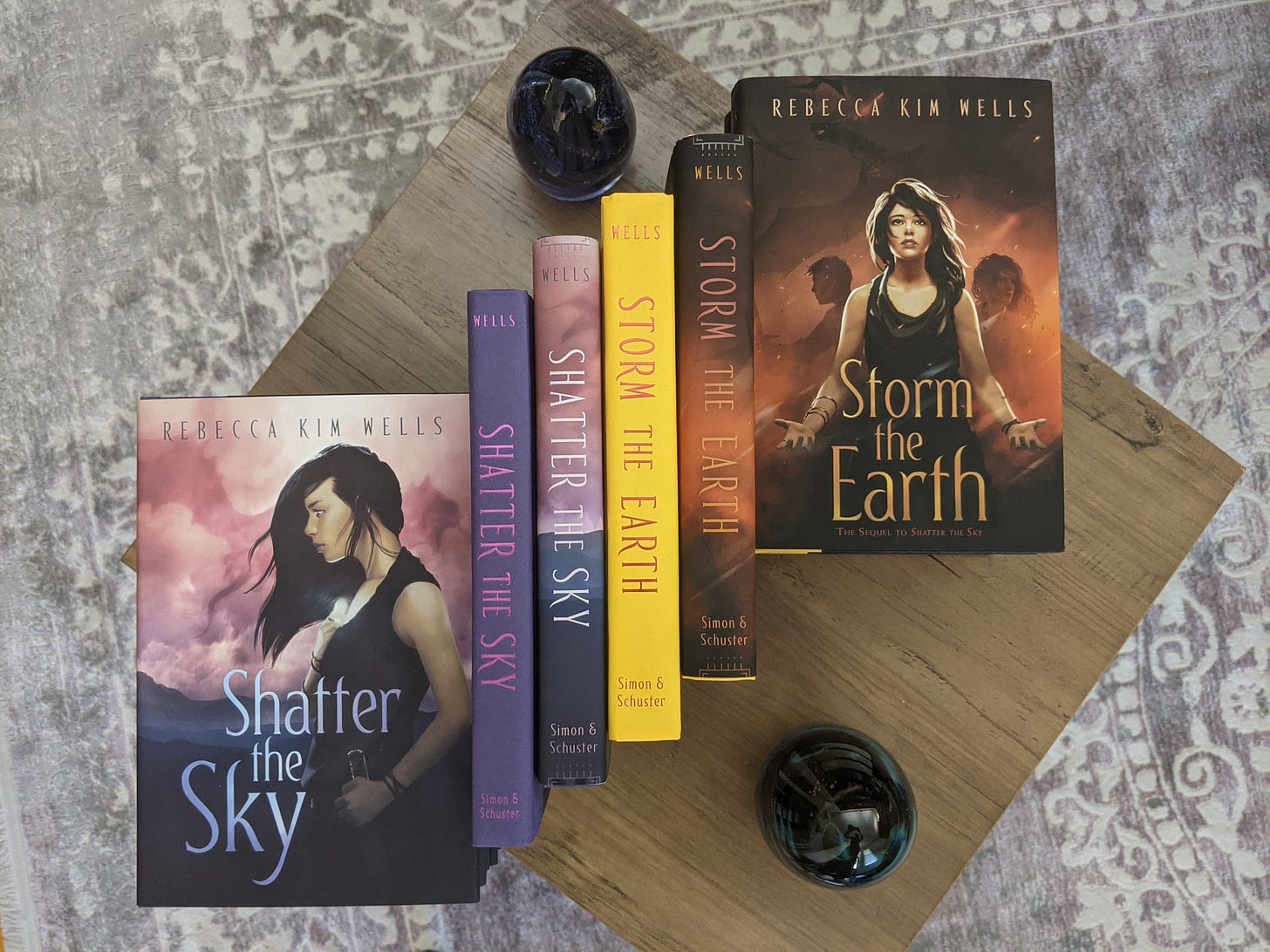 Musings
I remember ye olden days when blogs were the Thing, and I rather miss it! Early this year I experimented with a more conversational newsletter elsewhere before becoming bogged down in a lot of work, and I'd like to bring a little of that into this correspondence. So, Labyrinth. Yes, the movie. I could write entire term papers on some of its ridiculousness, but for whatever reason (I'm pretty sure the reason is that I first saw it at about the age of twelve, and it was just imprinted upon me forever after) I still harbor a deep and abiding love for it. But today, I'm here to talk to you about one thing, and one thing only: the set design of Sarah's room.
I rewatched Labyrinth a few days ago for OBAB research purposes, on the suggestion of a writer friend. I haven't watched it in years, but I've probably seen it at least five times (fewer than ten?) so I know it pretty well. But I was surprised to notice some things this time around that I don't believe I've ever really thought about before. When we first enter Sarah's room, the camera pans across several storybooks before crossing a scrapbook filled with newspaper clippings of theater reviews and articles about Sarah's mother, an actress. Photos of Sarah and her mother are everywhere—on the nightstand, on Sarah's mirror—and Broadway posters line the walls. Though none of this is ever mentioned in dialogue or referenced overtly by any of the characters, everything about this is intentional. It's clear just from this fleeting camera pass (less than 30 seconds) both that Sarah's mother is absent (possibly deceased), and that Sarah idolizes and imitates her—her love of acting and performance is clearly influenced by her mother.
It's a tiny thing, but so well conceived and presented, and that realization reverberated through my understanding of the entire story, and the way Sarah moves within it. Ultimately it got me thinking about my own worldbuilding, and yours. What small things about your setting or backdrop could you reference to give your audience clues as to your characters' backstories?
Recommendations (things I've recently put in my brain)
TV: Galavant (currently streaming on Netflix). Crass and sly and at times hysterically funny, this show is not for everyone, but it really kept me going a few months ago when nothing else would.
Music: 36 Questions - The Podcast Musical. This is technically a podcast but the story and music are absolutely haunting. I listened as it was released a few years ago, then bought the music, then revisited the entire podcast earlier this month. Features Jonathan Groff, better known to many of you as the original King George in Hamilton.
Books: The House in the Cerulean Sea, by TJ Klune. Arthur Parnassus is basically a social worker, except he deals exclusively with (potentially dangerous) magical children. When tasked with investigating a rather unusual orphanage, he discovers he might not be on the right side of things after all. This adult fantasy is delightful, queer, and completely charming. And I just finished reading an early manuscript of Dahlia Adler's Cool for the Summer, which comes out in May 2021. Smart contemporary queer YA, the sort I so wish I'd had as a teenager. Put this one on your TBR now!
That's all, folks!
Thanks so much for reading! I'm in process of sprucing up the newsletter, so if there's content you'd love to see more of, let me know!
Best,
Rebecca
*To find out more or to purchase any of my books, visit my website. Thanks so much for your support!